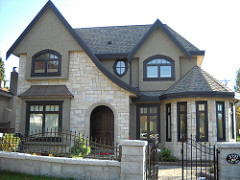 Within the past decade, the real estate market has seen a significant change in how homebuyers begin their search for a house. Real estate marketplace websites such as Zillow and Redfin have had an impact on the housing market. Now, homebuyers are more empowered to use these websites to extract information that they've deemed necessary to make an informed purchased on a property. It is estimated that 90 percent of home buyers now begin their research for a new property online.
Automated Valuation Model
Web sites such as Zillow offers what they call an Automated Valuation Model (AVM) that presents an estimate of the current market value of millions of homes listed. The AVM predicts the value of the home by pulling in a large amount of publicly available information then using an algorithm to generate a property value that is easy to understand for users, but exactly how accurate are these estimates and are they consistent?
What is a Zestimate?
The Zillow website states clearly that the Zestimate "is not an appraisal. It is a starting point in determining a home's value." This means that a Zestimate cannot be used by a bank and that the homeowner should think twice about using a Zestimate to determine a sales price for the property. Yet, there are first-time home buyers who are using the estimated home value provided my Zillow as their only source for an estimate. Research has shown that Zillow's estimates come within 5 percent of the actual value of a home only half of the time.
Is a Zestimate Accurate?
When questioned about the accuracy of a Zestimate, Zillow CEO Spencer Rascoff believes that a Zestimate "is a good starting point", but nationwide a Zestimate is said to have an average error rate of 8%. This would mean that on a house estimated for $500,000, there is a chance for a $40,000 discrepancy in home value.
So what should Zestimates be used for? Rascoff believes that we should only look at Zestimates as a starting point in pricing discussions with the real authorities on local real estate values, meaning experienced agents and appraisers.